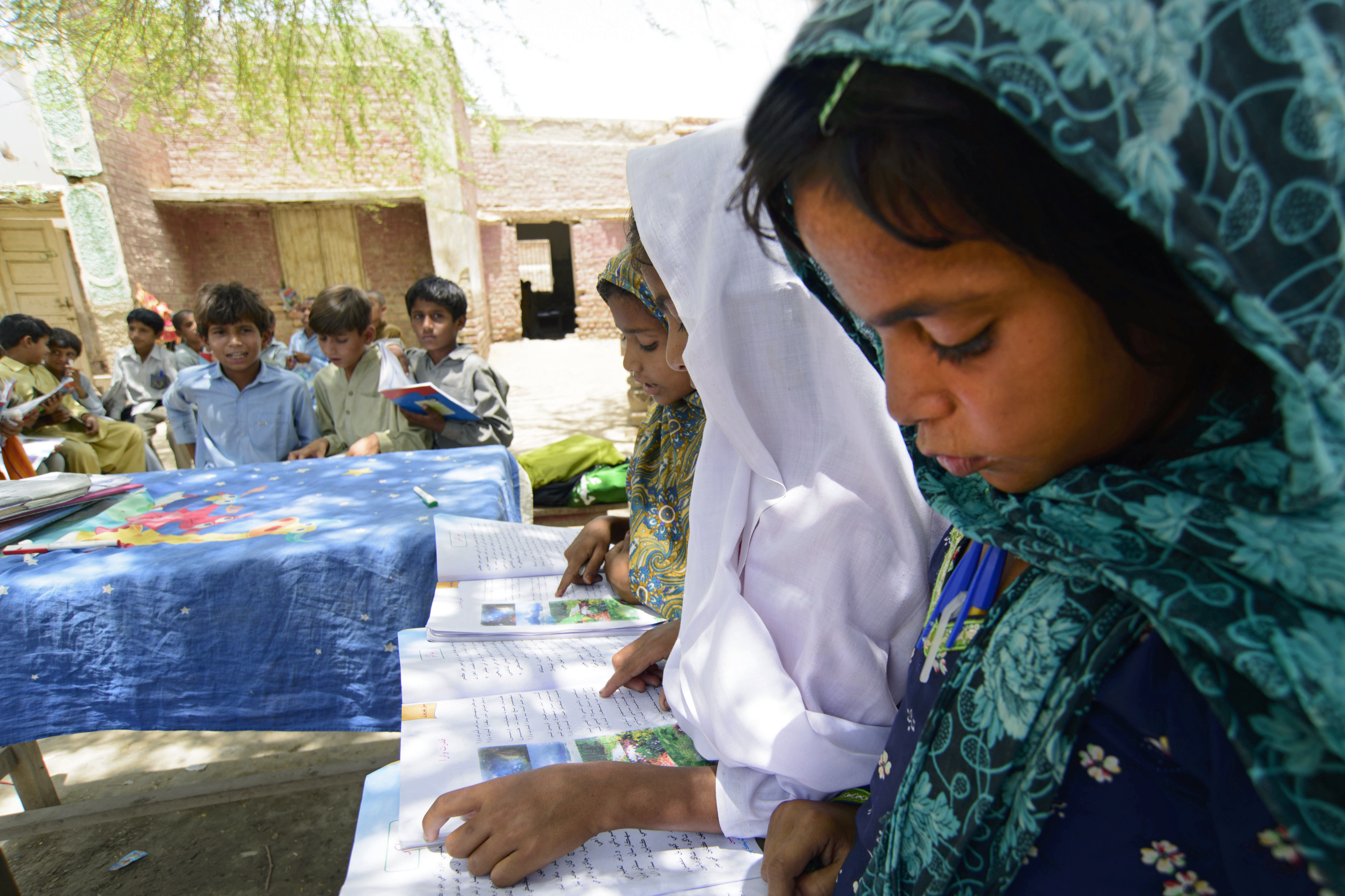 Credit: UNESCO / Amima Sayeed
Gender equality in access to school: ensuring equality in enrolment and attendance
Ensuring that all boys and girls enrol in and attend school is a joint project. Governments are responsible for laws, regulations and policies that promote equal opportunities in education. Parents, students and communities have roles to play in ensuring attendance.
In many countries, laws act as barriers to education – especially those that permit early marriage or allow schools to exclude girls that are pregnant. An evaluation of 15 countries found that Indonesia and the United Republic of Tanzania had the most discriminatory environments for girls. In the Democratic Republic of Congo, girls were regularly expelled due to pregnancy. Early marriage increases the probability of early school leaving but in 2016 was still practiced in many countries, including Afghanistan, Bangladesh, Nepal, South Sudan, the United Republic of Tanzania and Yemen (HRW, 2016).
In Zimbabwe, families may feel forced to marry off their daughters to maintain the family's honour if the girl becomes pregnant, spends the night outside of the home or even is seen with a boyfriend. One estimate found that nearly one-third of girls in the country marry by age 18, while 4% marry by age 15 (HRW, 2016). Even where laws are in place, they may not be effective. Key to addressing the problem is raising community awareness of the issue and adapting responses to local culture, so that actors take collective responsibility for ensuring girls stay in school (Box 3).
BOX 3: Community action with NGO support has focused on eliminating child marriage in Malawi
In Malawi, 50% of women marry before they turn 18, but the responsibility for ensuring girls stay in school is shared. Led by community leaders with the support of a civil society organization, parents, schools and local government officials in a rural community near Zomba recorded their perceptions of school quality. Scorecards were used to prompt discussion, which highlighted how child marriage prompted girls to leave school early. As marriage under the age of 18 was already illegal in Malawi, regulations were not a viable solution.
Traditional chiefs are powerful leaders with legitimate authority and significant convening powers. They also, by tradition, administer marriage ceremonies. Following the community meeting, the senior chief of the area brought together all village headmen and other stakeholders. In consultation with primary education advisors, it was decided that any headman who allowed early marriage in his area would be removed from his role by the senior chief, while parents who allowed their child to marry early would also face consequences. The District Commissioner and District Education Manager endorsed the decision. This collective opposition to child marriage led to a reduction in the dropout rate from 25% to 5% and supported the return of 74 married girls to school.
Sources: (GPSA, 2016; HRW, 2014; UNFPA, 2012; World Vision, 2015) (GPSA, 2016; HRW, 2014; UNFPA, 2012; World Vision, 2015).
In some countries, pregnant girls are excluded from school in a misguided attempt to uphold moral standards. Pregnancy tests are conducted routinely in the United Republic of Tanzania, and every year, over 8,000 girls are expelled because they are found to be pregnant (HRW, 2016). Other countries, such as Fiji, provide a path back to school for girls who left due to pregnancy (UNESCO, 2015c). In Mexico, this path is supported by grants for girls aged 12 to 18 to complete their education (UN Human Rights Council, 2017).
Legal guarantees of access to school do not always result in regular attendance. Education costs and financial difficulties may lead parents to prioritize the education of one child over the other, often on the basis of social norms that favour boys or girls. Truancy laws are used in some countries to attempt to increase attendance, the idea being that the threat of fines or jail-time will prompt parents to take action. However, there is no substantial evidence to suggest that truancy laws reduce chronic absenteeism (Atkinson, 2016). Moreover, severe sanctions disproportionately disadvantage low income families (Hutchinson et al., 2011). Given that more single parents are women, mothers are more often prosecuted in England and Wales, making up 59% to 63% of all truancy sentences between 2002 and 2006. This kind of treatment mistakenly identifies single mothers as being responsible for their marginal socio-economic situation and stigmatizes them as incapable of being good parents (Donoghue, 2011).
Conditional cash transfer programmes provide financial or in-kind assistance to poor families as long as their children attend school. They were pioneered in Latin America but have spread to low and middle income countries in other regions (Barrientos et al., 2010; Garcia and Moore, 2012). In Mali, the Bourses Maman programme provides women with grants for income-generating activities to ensure girls attend school (UN Human Rights Council, 2017).
Conditional cash transfer payments often target mothers, not only to empower women but also because they are more likely to invest the transfers in their child's human capital (McGuire, 2013).
After the introduction of conditional cash transfer programmes, girls' enrolment, attendance and retention improved in countries such as Bangladesh, Burundi, Pakistan, Somalia and Turkey (Fiszbein and Schady, 2009; UNGEI, 2017). In Bangladesh, the Female Secondary School Stipend Programme not only increased the schooling attainment of eligible girls by 2.7 years but also of their younger siblings by nearly 10% (Begum et al., 2017). In Zimbabwe, an intervention covering fees, supplies and additional help to orphan girls led to a nearly 50% lower dropout rate for girls included in the intervention (Iritani et al., 2016).